The most rapidly growing type of computing is cloud computing. Cloud computing has been described as a metaphor for the Internet, since the Internet is often drawn as a cloud in network diagrams. Using cloud computing, organizations and individual users can use Web services, database services, and application services over the Internet, without having to invest in corporate or personal hardware, software, or software tools. Figure illustrated below depicts the exchanges between client computers and services in the cloud. Businesses use Web browsers such as Microsoft Internet Explorer or Mozilla Firefox to access applications. As you can see, servers store software and data for businesses.
Many large, well-established hardware, software, and consulting companies such as Cisco, Dell, IBM, HP, Microsoft, SAP, and others are creating massive cloud computing endeavors, often with what are termed "virtualized resources." What is distinct about these approaches is their ability to grow and adapt to changing business needs. That is, they are scalable to suit growing (or changing) demand by users. The model of "software as a service," also called SaaS, is included in the concept of cloud computing.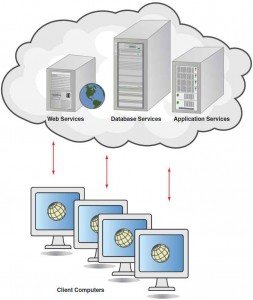 For their part, users do not need to understand, control, or be experts in the technology infrastructure that composes the complex cloud infrastructure that enables them to accomplish their work. Often, organizations do not need to keep IT staff to scale up or down even when a contract or company budget changes upward or downward because of the lessened impact of these changes.
Often organizations that are using cloud computing do not find it necessary to make up-front capital expenditures on IT infrastructure, so it enables smaller companies with smaller and less predictable budgets to make advances in processing more quickly. It also allows larger corporations to invest in strategic projects rather than IT infrastructure.
Sharing IT resources via cloud computing means that a large collection of corporate users share Web services, but also then jointly bear the lowered cost of them; realize increases in peak-load capacity, and that underutilized systems are used more efficiently and widely.
Companies also hope to improve their ability to perform disaster recovery by using cloud computing that provides many redundant sites. While cloud computing is not immune to outages, it can spread the risk to multiple servers.
Organizations try to improve security via cloud computing by using services that are sold as possessing a security focus. However, there are concerns that centralization of this sort also can translate into loss of control over mission-critical data. Users might benefit from the mobility afforded by being liberated from a single computer installation or single interface. Rather, Web browsers and Web-based services made available through cloud computing free users to access applications from anywhere at any time without regard for location or the device they are using.
Many large software companies (some of which are called "pure players" since they have never existed as brick-and-mortar enterprises) are offering applications using cloud computing, where users can use their Web browser to access applications. These include Google Apps (for spreadsheets and calendars), Amazon Web Services, Akamai, and CRM software by Salesforce.com that is now available on the iPhone as well. These software purveyors state that they are attempting to lower the cost to the user, as well as to provide increased flexibility.
Some observers believe that the move to cloud computing is a way for older, larger companies to solidify and retain their core businesses by incorporating SaaS (software as a service), SOA (Service-Oriented Architecture), virtualization, open source, and many other trends from the last decade into their offerings of software, software tools, services, and computing power via the Internet. However, if the cost of infrastructure were to fall dramatically (as it has historically), the drive toward cloud computing could reverse. If that happened, organizations might make different decisions, and once again invest in their own infrastructure. In addition, many of the online services comprising cloud computing are being paid for through advertising revenue. In a faltering economy, advertising incomes would decline, and cloud computing sponsorships could dwindle as well.