Management in organizations exists on three broad, horizontal levels: operational control, managerial planning and control (middle management), and strategic management, as shown in the figure illustrated below. Each level carries its own responsibilities, and all work toward achieving organizational goals and objectives in their own ways.
Operational control forms the bottom tier of three-tiered management. Operations managers make decisions using predetermined rules that have predictable outcomes when implemented correctly.
They make decisions that affect implementation in work scheduling, inventory control, shipping, receiving, and control of processes such as production. Operations managers oversee the operating details of the organization.
Middle management forms the second, or intermediate, tier of the three-tiered management system. Middle managers make short-term planning and control decisions about how resources may best be allocated to meet organizational objectives.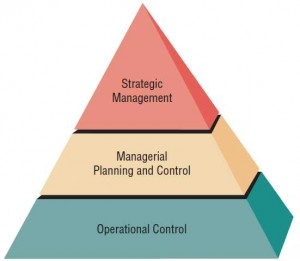 Their decisions range all the way from forecasting future resource requirements to solving employee problems that threaten productivity. The decision-making domain of middle managers can usefully be characterized as partly operational and partly strategic, with constant fluctuations.
Strategic management is the third level of three-tiered management control. Strategic managers look outward from the organization to the future, making decisions that will guide middle and operations managers in the months and years ahead.
Strategic managers work in a highly uncertain decision-making environment. Through statements of goals and the determination of strategies and policies to achieve them, strategic managers actually define the organization as a whole. Theirs is the broad picture, wherein the company decides to develop new product lines, divest itself of unprofitable ventures, acquire other compatible companies, or even allow itself to be acquired or merged.
There are sharp contrasts among the decision makers on many dimensions. For instance, strategic managers have multiple decision objectives, whereas operations managers have single ones. It is often difficult for high-level managers to identify problems, but it is easy for operations managers to do so. Strategic managers are faced with semistructured problems, whereas lowerlevel managers deal mostly with structured problems.
The alternative solutions to a problem facing the strategic managers are often difficult to articulate, but the alternatives that operations managers work with are usually easy to enumerate. Strategic managers most often make one-time decisions, whereas the decisions made by operations managers tend to be repetitive.
Implications for Information Systems Development
Each of the three management levels holds differing implications for developing information systems. Some of the information requirements for managers are clear-cut, whereas others are fuzzy and overlapping.
Operations managers need internal information that is of a repetitive, low-level nature. They are highly dependent on information that captures current performance, and they are large users of online, real-time information resources. The need of operations managers for past performance information and periodic information is only moderate. They have little use for external information that allows future projections.
On the next management level, middle managers are in need of both short- and longer-term information. Due to the troubleshooting nature of their jobs, middle managers experience extremely high needs for information in real time. To control properly, they also need current information on performance as measured against set standards. Middle managers are highly dependent on internal information. In contrast to operations managers, they have a high need for historical information, along with information that allows for the prediction of future events and simulation of numerous possible scenarios.
Strategic managers differ somewhat from both middle and operations managers in their information requirements. They are highly dependent on information from external sources that supply news of market trends and the strategies of competing corporations. Because the task of strategic managing demands projections into the uncertain future, strategic managers have a high need for information of a predictive nature and information that allows creation of many different what-if scenarios. Strategic managers also exhibit strong needs for periodically reported information as they seek to adapt to fast-moving changes.